Xello has added Resume Builder to the student experience!
A resume is a necessary part of applying to jobs, internships, volunteer opportunities and so much more. To help with the often overwhelming experience of writing a resume for the first time, the Resume builder pulls in the work students have already completed in other parts of Xello so your students can confidently start applying for those opportunities they're interested in.
Building a resume with Xello
Check out this short video to see what your students experience when building out a resume.
Tip: Share this short video with your students. Link to it on their Dashboard resources, place it in an Assignment, or message the link to your student groups in Xello. This video is also available in Spanish
.
Feature launch event: Resume builder recorded webinar
Check out this recorded webinar to learn how your students can quickly turn their Xello About me section into a professional resume with Xello's Resume builder. Watch as a Xello training specialist gives a comprehensive walkthrough of the tool, followed by an open Q&A with our product manager.
Students and Resume builder
Resume builder makes it easy to take the valuable information students have learned about themselves through assessments, self-reflection, and early experiences, and turn it into a professional resume.
Students access this feature from their About me page. Once they've begun, they have access to the Tips & samples on every page to help guide them in do's and don'ts of writing a stand-out resume. As they fill out each section of their resume using content already entered in About me, they also have the option to add new skills, interests, or experiences. New content is then synced and saved to their About me profile. At any point they're able to readjust the order of the sections so they can put their strongest skills and experiences first. Once they're ready, they download their completed resume either as a fully formatted, professional PDF, or as an RTF file if they wish to style their resume their own way.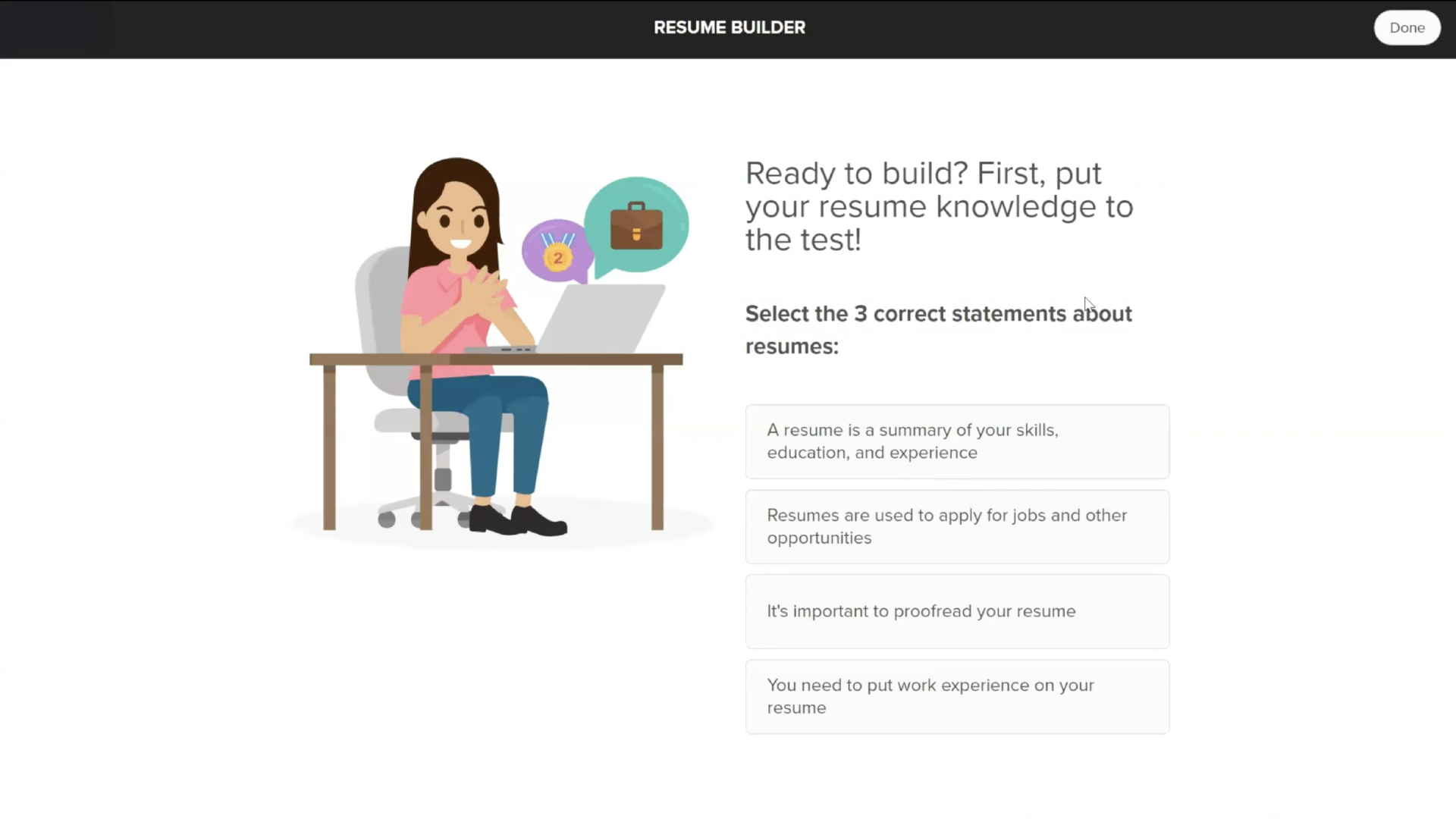 Educators and Resume builder
Educators view completed student resumes on the student's profile page, in the About student tab. You'll be able to view it once the student has added their contact details and completed the education section in the Resumebuilder.
To view a student's resume:
In the search bar located at the top of any page in your educator account, enter the student's name or ID.
Click on the student's name. The About student tab of their profile opens.
Scroll down to the Resume builder section to see when their resume was last modified.
Click on the resume to download it as a PDF.
Delivering Resume builder in the classroom
Check out these resources to support your Resume writing instruction.
Xello activity lesson plan
To get students started, the Resume builder resource will help you successfully guide your students in using the tool and creating a resume through discussion prompts, modeling, and reflection prompts.
This standalone lesson will take about 30-40 minutes and includes:
Inquiry prompts
Tips for preparing to teach the lesson
Teaching strategies
Step-by-step guidance for assisting students in utilizing Resume builder
A discussion prompt for students to complete in a Xello assignment
Activity Lesson Plan

Activity Lesson Plan

My resume
Instructional plan
For a more time-intensive but robust experience that provides context for Resume builder, the Resume writing instructional plan includes four activities to help you implement the Resume builder in the classroom face-to-face, online, or in a blended learning environment. Through these activities, your students will learn how to showcase themselves, analyze job ads, get tips on creating their resume, and learn how to write a cover letter.
This instructional plan can be broken up into four standalone lessons or one extended 95 minute lesson. It includes the components of the My resume lesson above, as well as:
Learning objectives
Future-ready skills and vocabulary
Real-world exploration of resume components and job-seeking tools
Student-facing instructions
Instructional Plan

Instructional Plan

Resume writing