Your district's lesson sequence should encompass your goals with Xello.
Creating Your Xello Lesson Sequence
Lessons not only deliver content, they also allow you to:
Identify and communicate what students in each grade should accomplish
Track progress towards those objectives
Support educators in meeting expectations with additional teaching resources
Lessons are an extremely flexible tool. The out-of-the-box lessons are interactive experiences where students acquire key skills and knowledge and explore core future readiness concepts. Most lessons have prerequisite activities that students must complete in Xello before they can begin the lesson, like saving careers, completing assessments, or adding to their experiences timeline.
Want a quick overview? Check out this short video on Xello Lessons
.
You can also create custom lessons for additional learning objectives and activities not covered by Xello's interactive lessons. Custom lessons can have prerequisite activities to ensure that students are completing the activities you want them to.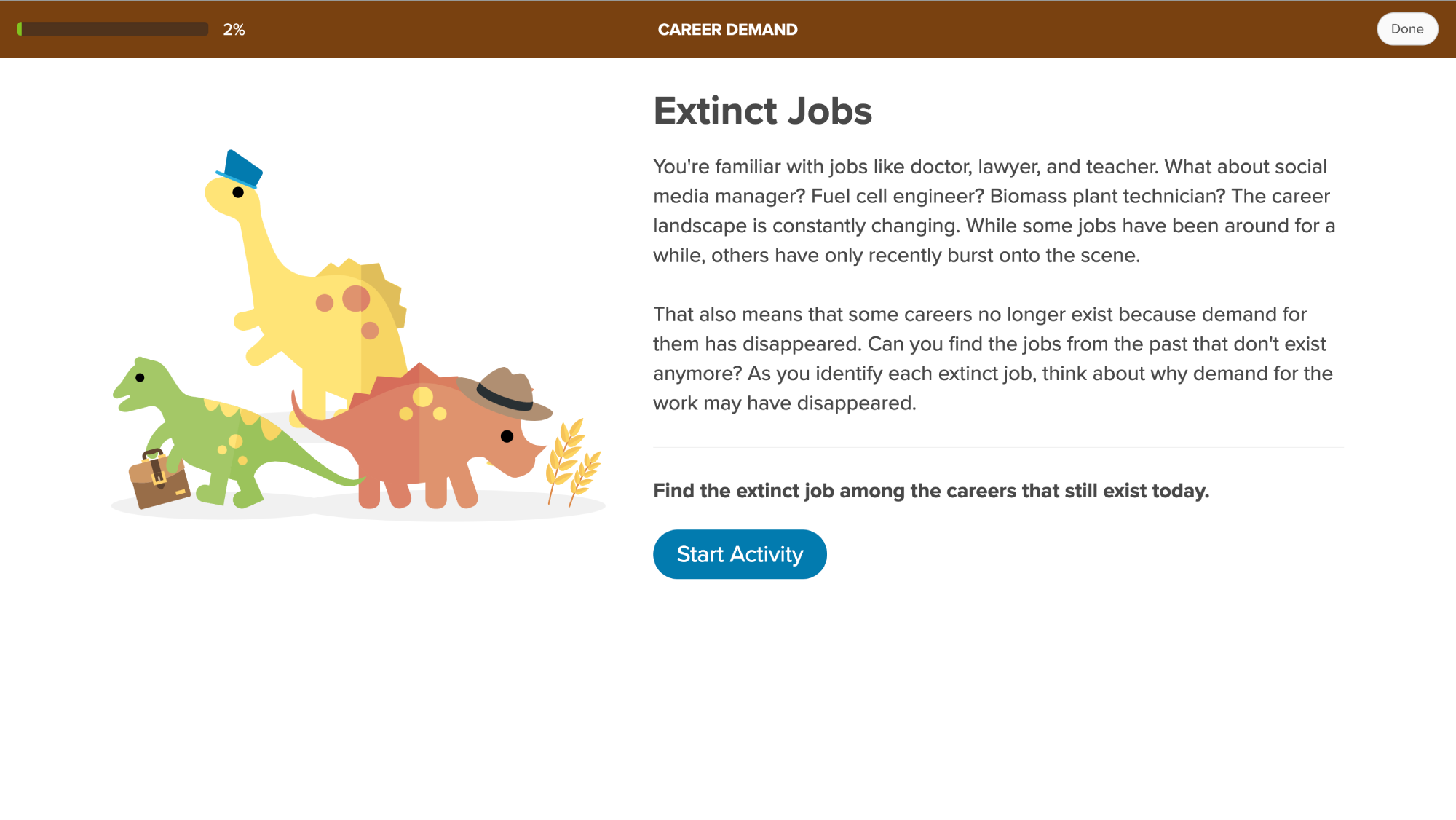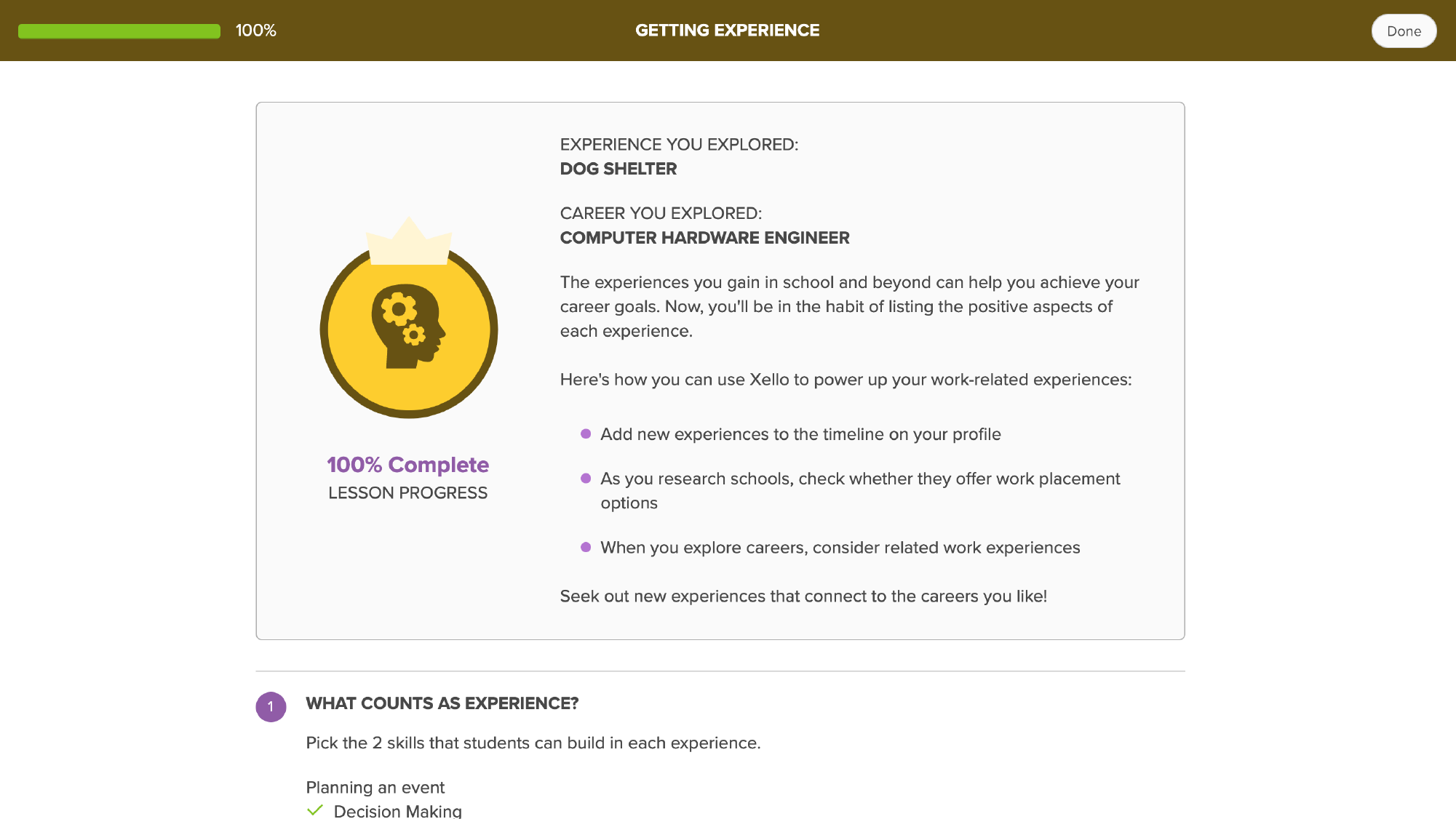 Who Determines the Lesson Sequence
The lesson sequence should be set at the district level. This establishes consistent expectations for students and enables effective tracking and reporting. Xello Administrators at the district can set up the lessons based on what they want students to accomplish.
Best Practices
Bring together people from different areas, like Counseling, CTE, Curriculum, to collaborate on the learning objectives and requirements.
Use the worksheets in this article to facilitate your discussions.
When to Set Your Lesson Sequence
It's important that your lesson sequence be set before you introduce Xello to students, and it's ideally set before your educators are trained on the program. This way your students and educators will know what to do right from the start.
If you need to make changes after the program is launched, it's not a problem. You can change your configuration at any time.
Best Practices
If you do change the lessons during the year, be sure to let staff know that a change has been made and why.
Review your lesson sequence every year and make changes during summer break.
Steps to Creating Your Lesson Sequence
Get to know Xello's Lessons
Select the Xello lessons students in each grade should complete
Create custom lessons for any other learning objectives
Set up the sequence in Xello's Educator Tools
Back to top
---
How Students Access Lessons
For students in grades 6 through 12, lessons are front and center when they first log in to Xello. Required lessons, that is, those marked as "Core", appear first. A progress meter shows students how far they've come and what they have left to do.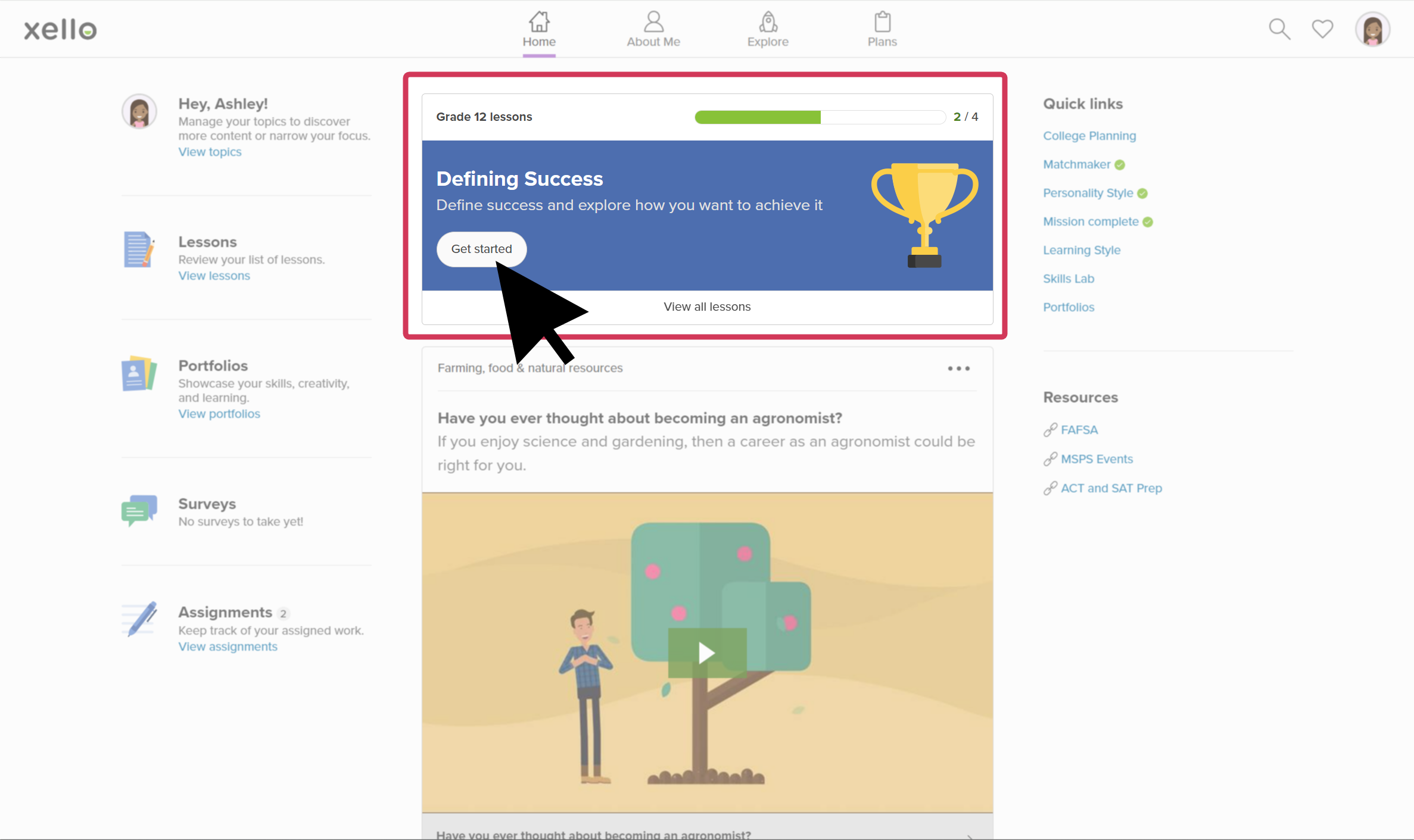 Students can access lessons from previous grades, as well as non-core lessons for their grade level through the View All Lessons option.
Good to know!
Most lessons take 20 to 40 minutes to complete. Students don't have to finish them in one go. They can stop and pick up exactly where they left off at any time.
When a student finishes a lesson it will move to the bottom of the list and show that it's been completed.
In your educator account, you can track aggregate lesson completion and you can view individual students' work.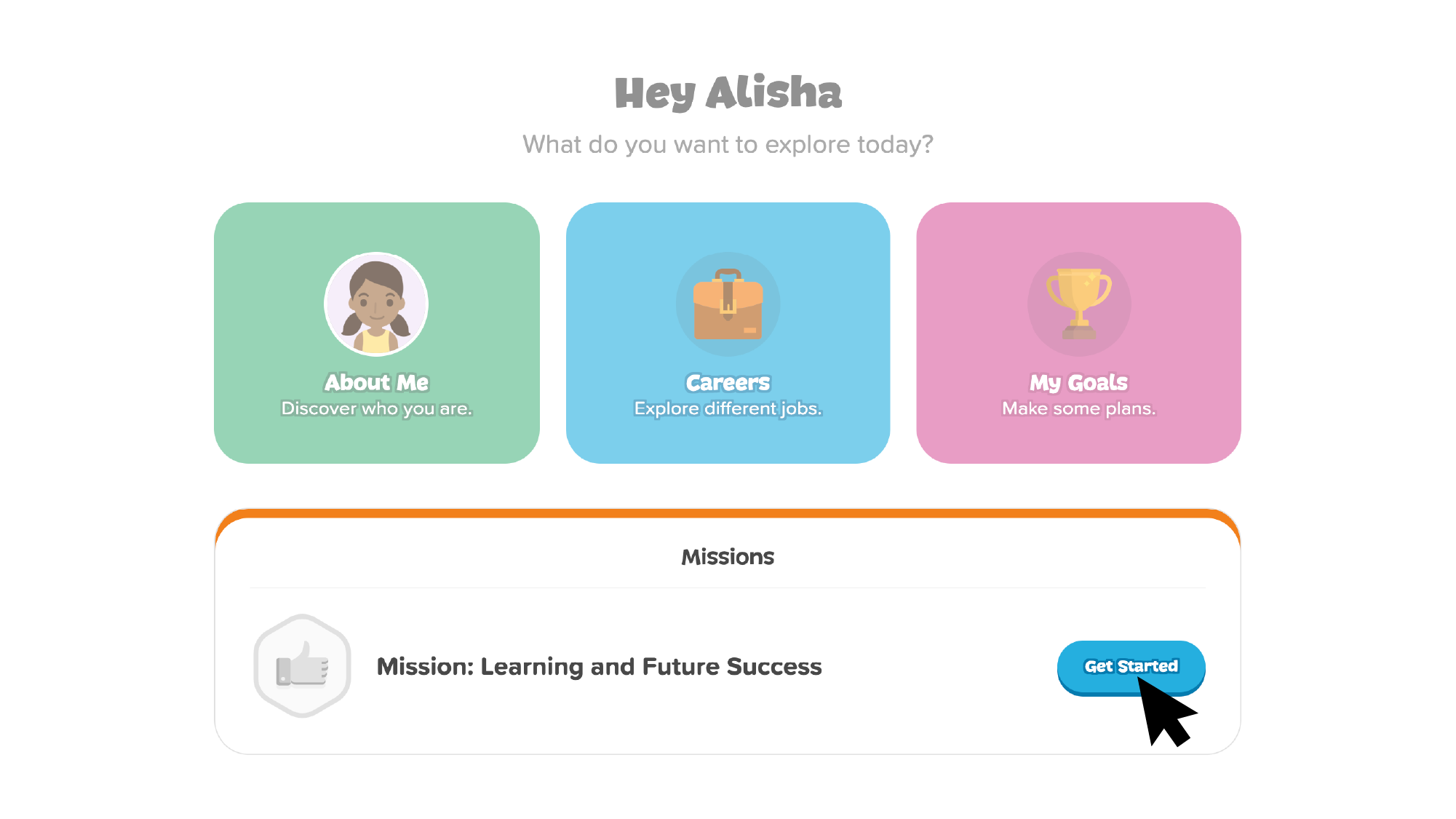 Elementary students also find their lessons, called Missions for students in grades 3 through 5, right on their dashboard. Students can click View All to see lessons from previous grades, revisit their answers, and explore anything they haven't completed yet.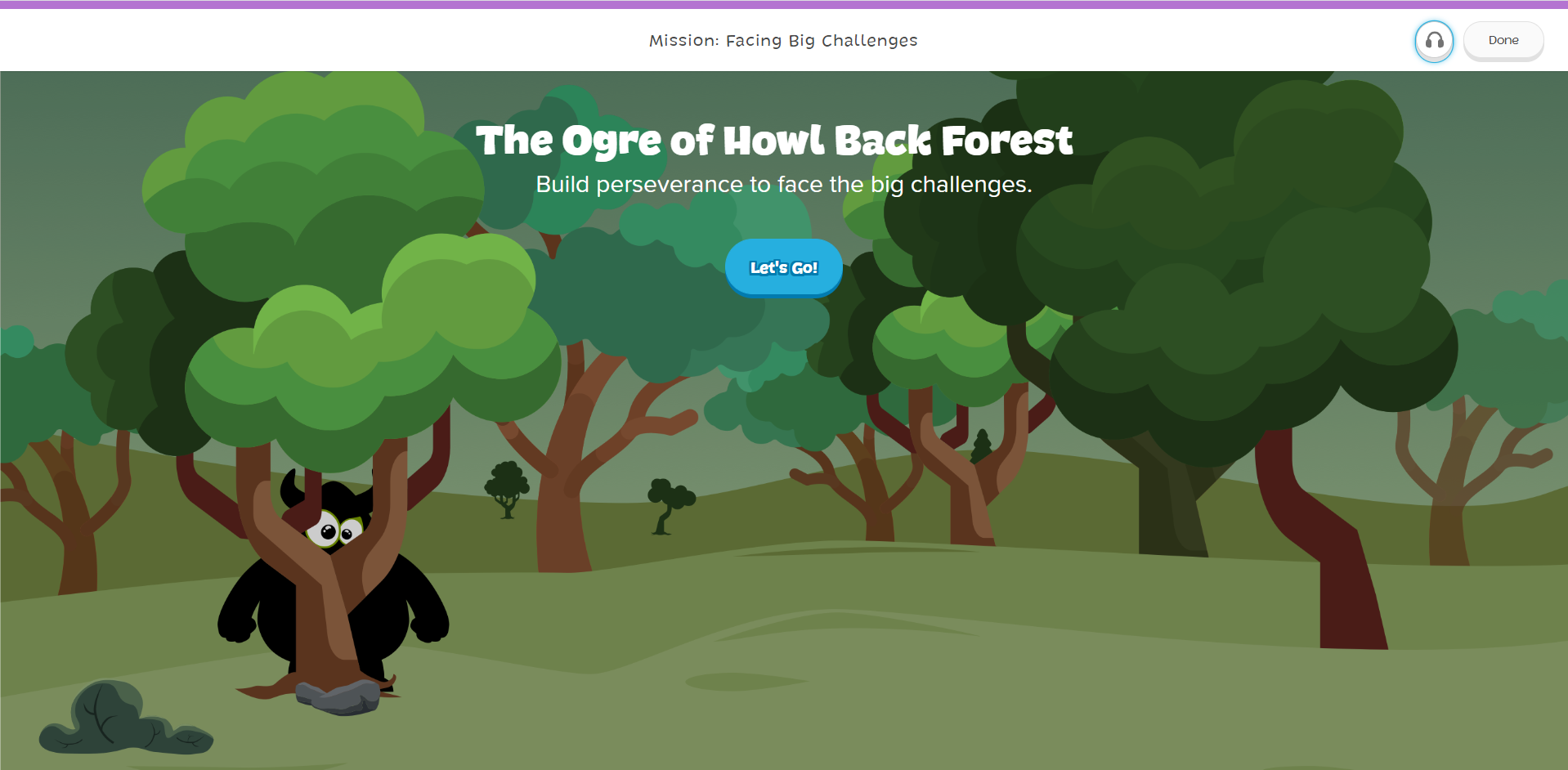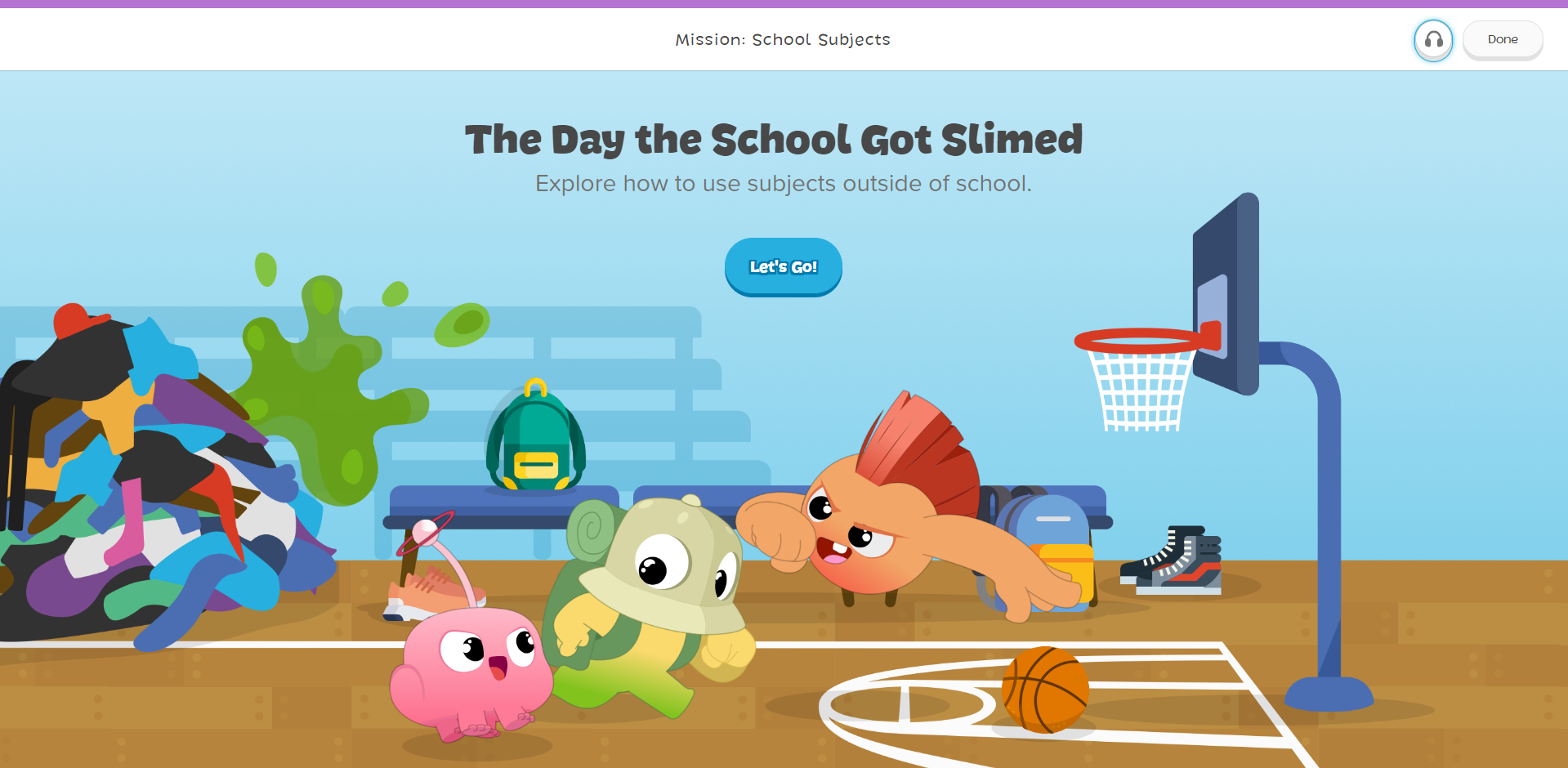 Back to top
---
Steps to Creating Your Lesson Sequence
Step 1: Get to know Xello's Lessons
With integrated lessons, students build essential skills and knowledge that can help them succeed in the real world. Personalized based on their work in Xello, lessons give students the chance to reflect, reassess, and build communication, problem solving, and teamwork skills to ensure smooth transitions between critical life stages.
PDF

PDF

Introducing Students to Xello: Scope and Sequence

The Scope and Sequence document outlines recommendations for how to use Xello throughout each grade.

PDF

PDF

Lessons Pacing Guide

Use this pacing guide to simplify your experience with Xello Lessons and supplementary resources. Topics for each grade level are sequenced for you, so you can see at a glance the order in which to deliver the curriculum.

Xello Resource

Xello Resource

Integrated Lessons in Xello

Use this walkthrough to explore how Xello's interactive Lessons helps students build critical skills and knowledge for real-world success while encouraging ongoing reflection.
Pro Tip: Each lesson has an accompanying Lesson Plan, with vocabulary, discussion questions, and activities to enrich and reinforce learning. Check out Lesson Resources for Xello 6-12Lesson Resources for Xello 3-5.
Step 2: Select the lessons students in each grade should complete
You'll want to ensure your lesson sequence reflects your district's needs, goals, and curriculum. Consider where and when students will be completing these lessons and supporting activities. Will it be through homeroom, advisement periods, core classes, or other times in the schedule? Who will be responsible for delivering the content: counselors, core curriculum teachers, specialized teachers?
Use the worksheets at the end of this article to draft your lessons Worksheet for Grades 3 - 5 LessonsWorksheet for Grades 6 - 12 Lessons
If you're using Xello to fulfill state or local mandates, those requirements should be reflected in your lesson sequence to make sure students are completing the activities and gaining the knowledge to meet those expectations. Connect with your Success Manager if you need support with mapping Xello's lessons to your state mandate.
Settings You Need to Know
Core Lessons: Lessons marked as "Core" are considered mandatory and comprise students' primary progress tracking. Non-core lessons can still be accessed and completed by students, but are optional.
Active Status: Active lessons are available to students; lessons that are not active will not appear to students.
Grades: Lessons can be assigned to one or more grades. Students in each grade the lesson is assigned access it from their dashboard. It will only show in the highest grade it was assigned and not in previous years when they click View All Lessons. Students complete the lesson once.
FYI: There are two grade bands where lesson settings can be edited: Grades 3 to 5 and Grades 6 to 12. Lessons must stay within their grade bands. That is, a Grade 4 lesson can't be assigned to Grade 7 students or vice versa.
Step 3: Create custom lessons for any other learning objectives
If you have activities or learning objectives beyond what's covered by Xello's embedded lessons, you can create custom lessons of your own on any topic you'd like. It will appear on students' dashboard alongside the Xello lessons. To complete a custom lesson, students can enter information in the text area provided, upload a file, or both.
Here's how to create a custom lesson:
Pick the grade(s) for the lesson
Create and enter the name that will show on the student dashboard
Choose which, if any, activities in Xello they need to complete, e.g. creating a resume or completing an assessment
Enter instructions for students to complete the lesson, which can include links or templates
Click Save
Step 4: Set up the sequence in Xello's Educator Tools
In the left menu of Educator Tools, click Features and select Lessons.
Click on the name of a lesson to learn more about the learning objectives, specific activities, and prerequisites students complete before starting that lesson.
To move a lesson from one grade to another, click and drag the lesson card.
To change additional settings, click on the lesson name and from near the bottom of the page, select Edit.

To add a lesson to multiple grades, choose the grades the lesson should be assigned to. Students only need to complete the lesson once, but they can complete it in any of the selected grades.
Toggle the Core status to set whether the lesson is required or optional.
Toggle the Active status to make a lesson available or unavailable to students.

Be sure to save any changes you've made!
Check Your Changes
Once you've created the lesson sequence, you can use your demo student account to check that everything is configured correctly.
You'll need to check the lessons for grades 3-5 and the lessons for grades 6-12 separately. Select the highest available grade for each grade band.
Make sure the core lessons for that grade are showing up by default on the dashboard in the order you want.
Click View All Lessons to see any non-core lessons for that grade.
Check the previous grades to ensure everything looks right.
Back to top
---
Lesson Sequence Worksheets
PDF

PDF